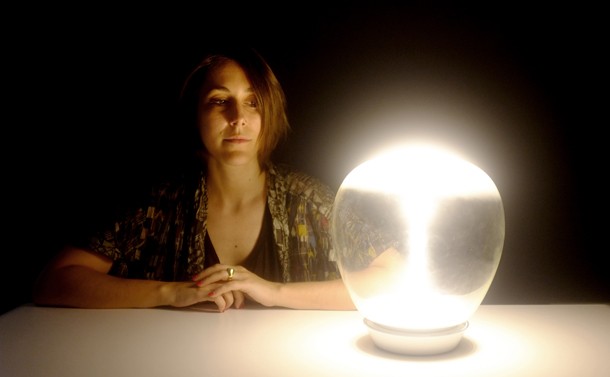 Paola Monaco di Arianello is an Italian designer who lives and works between Milan and London, specialized in light and product design.
She studied Industrial Design at the Faculty of Architecture in Genova (Italy) and at the University of Lapland - Lapin Yliopisto (Faculty of Art and Design) in Rovaniemi, before specializing in product design in 2009 at the Politecnico di Milano.
From 2008 to 2015 she has collaborated with architect Carlotta de Bevilacqua, with whom she has developed various projects in the field of light design. At the Studio of Architecture Carlotta de Bevilacqua she has been responsible for product concept, technical development and communication.
In 2011 she has founded her own design and consultancy practice.
In these years she has been the author of several projects for both italian companies Artemide and Danese.
Her work has been published internationally and has received several prestigious awards: IF Product Design Award and Wall Paper Design Award (Best Transparency), for the family of lamps Empatia and the Red Dot Award: Product Design, for the system Algoritmo, both designed for Artemide.
In these years, her projects have been involved in light installations by some of the most important international architects, as "Twirl" installation created with the system Algoritmo by architect Zaha Hadid for the event of Interni, Mutant Architecture & Design (Milan Design Week 2011) and "Office for Living", a project created by Studio Jean Nouvel at the Salone Ufficio 2013 (Milan) with the lamps Diaphragm and Algoritmo.
Projects
INCIPIT
Vide, 2015
DANESE (Artemide Group)
Mia, 2014
ARTEMIDE
Empatia, 2013
Diaphragm, 2013
Algoritmo dark LED, 2013
Algoritmo floor, 2013
Airlite, 2012/13
37Cube, 2011
Mirror ID., 2011
Algoritmo system, 2010
Awards
January 2014
IF Product Design Award 2014 - Empatia, Artemide
January 2014
WallPaper Design Award 2014: Best trasparency - Empatia, Artemide
July 2011
Red Dot Award: Product Design 2011 - Algoritmo, Artemide